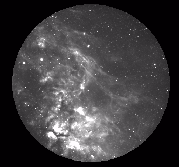 VTSS
The Virginia Tech Spectral-Line Survey
Acknowledgement/Guidelines for Use of Images
If you want to publish or display any image from this Survey, please contact us. An e-mail message can be sent to John Simonetti at jhs@vt.edu.
If you publish any image, and/or publish any research you do using an image from the Survey, please acknowledgment "the Virginia Tech Spectral-Line Survey (VTSS), which is supported by the National Science Foundation'' in your article.
If you publish an article which uses an image from this Survey, please send us a preprint of the article.
Thank you.
---
VTSS | Virginia Tech Physics | Virginia Tech Astrophysics | Virginia Tech